Welcome to Year 5 - Your teachers are Mrs Shacklady, Miss Bell & Miss Brown. We can be contacted on y5@methley-pri.leeds.sch.uk
Year 5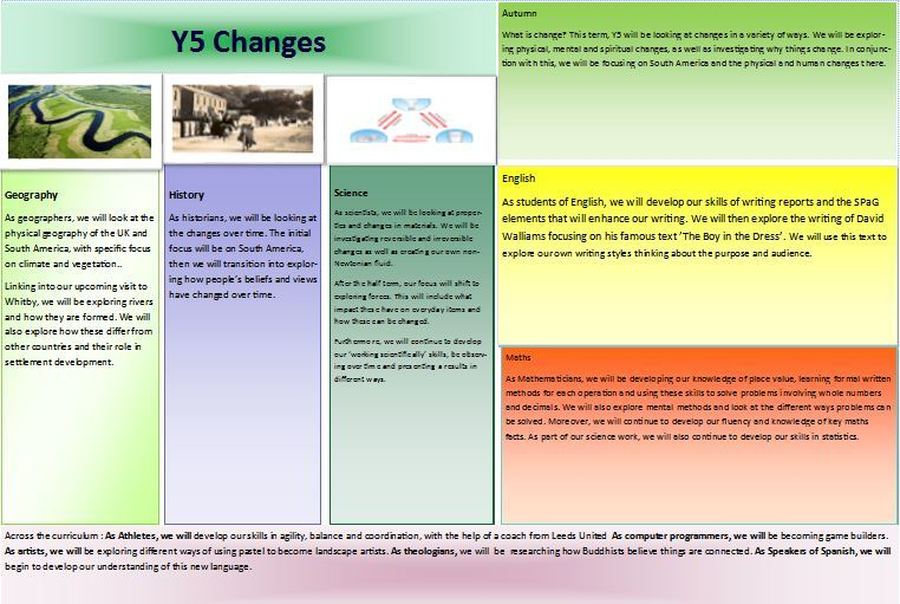 Spanish song contest!
Here's our entry for the Methley Primary Spanish Song Contest! We hope you enjoy it....don't forget to vote for us on the school twitter page!
Current Learning
In English, we have completed our first non-fiction unit of work. We have learned to identify the purpose, audience and type of writing and begin to select language appropriately. We have looked at using a range of sentence types in our writing, and using 'burger paragraphs' in order to ensure that not all our sentences are simple. Our next unit of work is narrative, based around stories from other cultures.
In Maths, we have been looking at place value, including Roman numerals and negative numbers. We are now moving onto addition and subtraction, followed by statistics. Please do take the time to click on the link at the bottom of the page for the Key Instant Recall Facts- Autumn 1 homework is based on decimals.
Topic this term centres around South America. We have used pastels to draw differing landscapes and investigated the language used to describe it in physical geography. We will now be moving onto a river study, including the Amazon. We have started to learn Spanish and have also welcomed a coach from Leeds Utd every Tuesday for PE.
What a busy term!
Homework -
Reading - Read 2 / 3 times per week.
Spellings
Assessment- Monday 30th October
The children will be assessed on their retention of the spellings learned in Autumn 1.
This includes words from the Y3/4 list that we have been working on in spelling boosters in class.
We are expecting the children to use their blue spelling books as reference, as spellings have been recorded here each week. They now also have a record of the Y3/4 words in here as well.
Happy spelling!
Maths - It is our aim and expectation that children will be fluent in place value, addition, subtraction, multiplication and division facts. The website below is a fun way for children to develop this instant recall. Please also find attached some useful division rules for the children to learn. Children need to know the Key Instant Recall Facts for Autumn 1- please see link below.
Specific Maths homework may be given occasionally, but (as in Y4) the expectation is that
the children are fluent in the Key Instant Recall facts for this term (and all previous terms).