Mrs Reynard and Mrs Falkingham welcome you to our Year One page.
YEAR ONE
Our Current Learning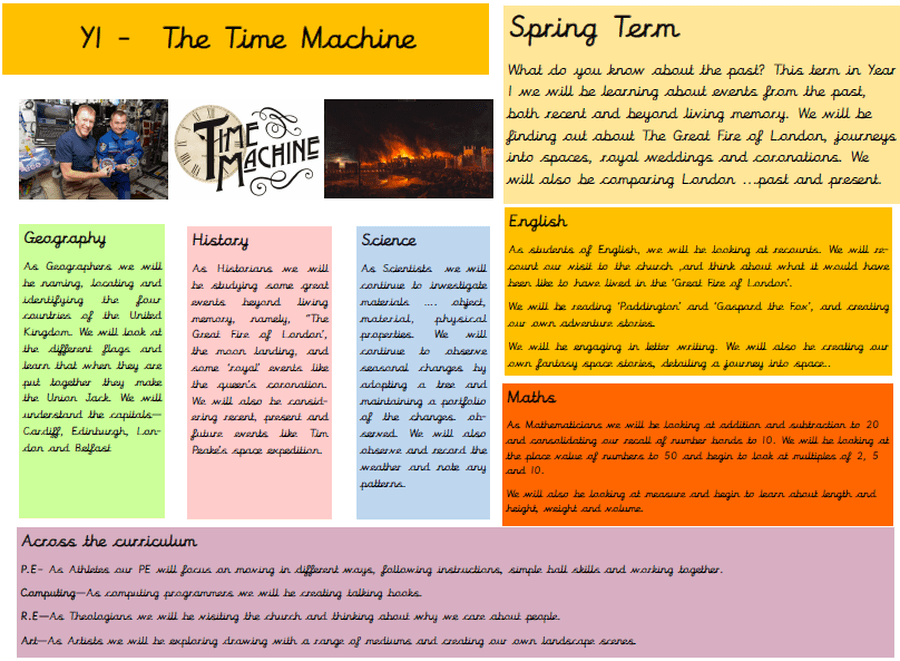 Maths - Week Beginning 18-3-19 - We will continue to compare number statements, e. g,
13 - 5 < 13 - ?, 16 - 4 = ? + 4, 9 + ? > 9 + 1
This will be done alongside consolidating missing numbers. You will hear the children saying part + part = whole and whole - part = part. The children will use tens frames, whole part models and number lines.
English - Week Beginning 18-3-19 - In reading, we will be focussing on vocabulary (inventor, tweaked, magnificent, clambered, stumbled), and retrieval questions, from the 'Marvellous Moon' story.
Week Beginning 18-3-19 - In writing, we will be completing a cold task about a journey and learning a text map about 'Rosie's Walk'
Topic (DT) - Week Beginning 18-3-19 - We will be exploring pop up puppets as part of our slides and levers investigation
Topic (Art) - Week Beginning 18-3-19 - We will use our oil pastel techniques to create 'Great Fire of London' artwork
Topic (Science) - Week Beginning 18-3-19 - We will be sorting objects and activities according to the seasons and giving reasons for our choices
Throughout all our learning children are challenged with different activities both with the teachers and working independently in provision. This allows children to work in areas they enjoy and display learning in different ways.
Homework
Spellings - Week Beginning 18-3-19 - We will continue to look at the suffix 'ing', e. g, sleeping, picking, planting, growing, looking
In phonics 18-3-18 we will be looking at 'ea' as an 'e' sound, e. g, head, bread, ready, feather, breakfast
Important information
We have done some great science investigations this week and the children have been in awe, asking amazing questions. They thoroughly enjoyed the mad science visitor on Thursday.
We try to ensure the children take their water bottles home at the end of each week to be thoroughly cleaned. Please ensure they bring them back on the Monday. Thank you
Books are changed on a Tuesday & Friday, if reading records have been signed by parent/carer. Don't forget to read at least 3 times for a ticket in our reading raffle. We are also promoting moving up the reading ladder - a step for each read with a certificate for achieving 10 reads.
PE kits to be brought on a Monday and taken home on a Friday. Please ensure your child has indoor and outdoor kit.
Indoor kit consists of navy/black shorts and a white t-shirt. Outdoor kit consists of navy/black tracksuit, white t-shirt and trainers.
This half term Mrs Falkingham's class and Mrs Reynard's will both do PE on Wednesday and Friday
Thank you
Email us: MPSyear1@brigshawtrust.com
Follow us on Twitter: @Year1Methley